Hours & Days
Gateway Auto Museum Summer and Fall Hours:
Seven days a week
10:00am-6:00pm
Hours of operation are subject to change.  Please call ahead to confirm at 970.931.2895 or email at [email protected]
Accommodations for your group can be made anytime throughout the year. For additional information or to book your group, please send your request via our Contact Us page.
Your visit can consist of a 'quick' walk through, viewing all of the vehicles in the Hendricks Collection or you can "enjoy the ride" and spend hours reading everything, studying the storyboards, participating in the interactive displays and watching the video clips offered.
We recommend that you have at least two hours to spend with us!
* The Gateway Colorado Automobile Museum is closed on Christmas Day and may be closed on some widely observed holidays. Please call in advance if your plan is to view the Museum on holidays such as Thanksgiving and Christmas to confirm that we will be open.
Museum Requests
We want you to thoroughly enjoy your visit and to take the opportunity to enjoy the museum as an art exhibit as well as a learning experience. We encourage you to bring friends and family to share it with and to please feel welcomed to take photographs to share with those who could not join you. Museum staff will be available to answer any questions you may have and to open vehicles upon request for a closer look.
Museum Rules
Please:
Do not touch the vehicles in the collection and do not step over the barriers
Be careful as you lean close to the cars – so that your camera, keys, buttons or other dangling items do not come into contact with the vehicles
Do not bring food or drink into the Museum. We will be glad to hold items for you at the entry desk.
Children under 12 are allowed with an accompanying adult.
Please, no pets allowed in the museum.
Security
Please be aware that you are on camera at all locations inside the museum.
Parking
The Gateway Colorado Automobile Museum has ample parking in front of the Museum and additional parking lots adjacent to the Museum. If you are bringing your Auto Club to the museum, you may call ahead and reserve a section of the parking lot so that you can park together and display your cars a group!
Additional Services
We want to make certain that your visit to the Gateway Colorado Automobile Museum and surrounding Resort is a wonderful experience. Museum staff will be happy to assist you with dining reservations, information on resort activities and local information. We offer complimentary wheelchairs for our less mobile guests, and we have a Museum Store stocked with gifts for you and others.
Location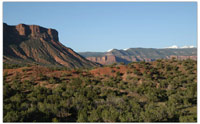 We are surrounded by the red rock canyons of Western Colorado in one of the most amazing and unspoiled natural locations in the country. Gateway Canyons Resort and the Gateway Colorado Auto Museum are approximately one hour southwest of Grand Junction, Colorado, along scenic byway 141, a true driver's road with its sweeping curves, climbs and descents enhanced by the ever changing canyon settings.